Suzuki GS500E
Suzuki's street bike line has a solid reputation as having some of the best values in the industry. Versatile machines that have broad appeal, they offer the right combination of price, performance and style. For 2002 all three models are back with all the style, performance and value you've come to expect from Suzuki as well as a new addition to the Suzuki street line-up: the all new 2002 DL1000 V-Strom, a multi-purpose machine combining strong V-twin performance, easy handing and distinct styling to create Suzuki's first Sport Enduro Tourer.
GS500
Entry-level riders are faced with a multitude of decisions when choosing a new motorcycle. The recently re-designed GS500 has all the right features to get new riders started and keep them having fun as their riding skills improve. The 4-stroke twin-cylinder 487cc air-cooled engine has a broad powerband while still remaining slim, light and easy to handle. Other features include wide upright handlebars and a comfortable seat creating a perfect perch for riders of all skill levels. Experienced riders will appreciate the six-speed transmission and high rpm redline, as well as the rigid box section frame, single-shock rear suspension and large front disc brake.
The GS500 comes equipped in a brand new black color scheme for 2002, and maintains the stylish seat, tank, instruments, and tail section of the previous year. Add it all up and the GS500 creates the perfect platform for experienced and entry-level riders alike at an unbelievable price of just over $4000.
GS500 (K2) AT A GLANCE
Suggested Retail: $4,399.00
Engine Type: 4-stroke, twin-cylinder, air-cooled
Bore and Stroke: 74.0 mm x 56.6 mm
Front Brake: Single Hydraulic Disc
Rear Brake: Single Hydraulic Disc
Wheelbase: 1,405 mm (55.3 in.)
Dry Weight: 173 kg (381 lbs)
Overall Length: 2,075 mm (81.7 in)
Overall Width: 745 mm (29.3 in)
Overall Height: 1,045 mm (41.1 in)
Seat Height: 790 m (31.1 in)
Ground Clearance: 155 mm (6.1 in)
Wheelbase: 1,405 mm (55.3 in.)
Dry Weight: 173 kg (381 lbs)
Engine type: Air-cooled 487 cc inline-2, DOHC, 4 valves. 47 hp (34,3 kW)/ 9.200 rpm, 40 Nm/ 7.400 rpm.
Specifications are subject to change without notice, in accordance with national regulation and legislations.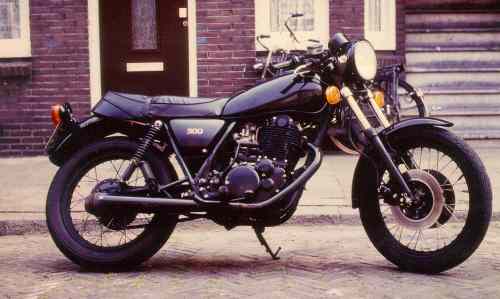 Hi! My name is Jan Prokop. I am 21 years old and I come from Czech Republic (Central Europe). I study Building structures on Czech Technical University (ČVUT). My hobbies are motorbikes, travelling, taking photos… I decided to create this website to publish and share my photos and reports from my roadtrips with you. I hope that you will like it and enjoy it!
I've been riding fourth season now. It doesn't seem so long to me:) My first bike was red Suzuki GS 500E (98). I had it for a year. Then I sold the GS and bought the silver Suzuki SV650S. I spent two years on it. It was a great bike, but I felt that it is not exactly my cup of tea. SV ensured me that next bike has to be some touring enduro or something like that. So that's the reason why I enjoy roads and landscapes on my BMW R 1150 GS now. It is my dream bike and I don't think that I will ever change it. BMW really brings the joy of riding, I must say. You can see some pictures of my bikes on the bottom of this page.
I hope that the pictures, short videos and also my blog entries will help you to feel the same atmosphere that I felt on the road. So enjoy it;)