Ford Escape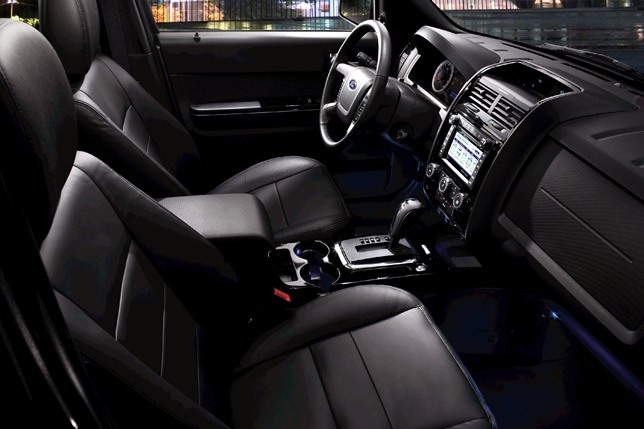 Ford's 2010 Escape, the small SUV with the best crash test ratings of any vehicle in its class, is increasing its technology leadership with the addition of five new features that improve safety, reduce driver distractions and aid drivers by automatically parallel parking their vehicle.
The new Escape, in showrooms this summer, will add MyKey™ teen-safety technology, Integrated Spotter Mirrors – both offered standard (MyKey on XLT and above models) – optional Rear View Camera System and SYNC with real-time Traffic, Directions and Information. The new model also will be the North America's first SUV to offer Active Park Assist, which uses an ultrasonic-based sensing system and Electric Power Assisted Steering (EPAS) to position the vehicle for parallel parking, calculate the optimal steering angle and quickly steer the vehicle into a parking spot.
The new technologies build on Escape's unsurpassed crash ratings – a "Top Safety Pick" award from the Insurance Institute for Highway Safety (IIHS) and 5-star government ratings in all crash tests. The Escape, which Kelley Blue Book editors recently named one of the "2009 Best New Family Vehicles," also is the only compact SUV to offer standard AdvanceTrac® with RSC® (Roll Stability Control) and a standard Safety Canopy® side curtain air-bag system.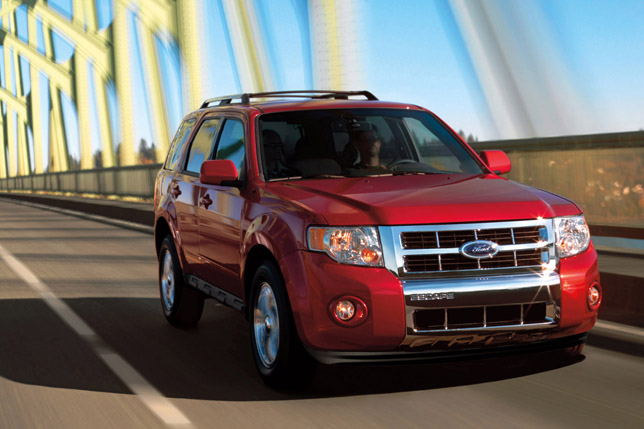 "The Ford Escape is one of few vehicles that earned both full 5-star crash ratings and a 'Top Safety Pick' in the small SUV segment," said Susan Cischke, Ford's group vice president of Sustainability, Environment and Safety Engineering. "These new technologies will help to take the new Escape to the next level of safety and driver satisfaction."
According to 2008 Ford market research data, nearly nine out of 10 Escape and Escape Hybrid buyers rank safety features – including the road-holding capability delivered by roll stability control – as one of their top purchase reasons.
Technology Transformation

Unprecedented for a carryover model, the Ford Escape's technological makeover demonstrates Ford's broader efforts to quickly and efficiently introduce new features along the consumer electronics industry's development cycles measured in months.
"Our vision with SYNC, MyKey and other new technologies is to be a technology leader, making it affordable for millions – just as Ford has done with safety and fuel-saving technologies," said Doug VanDagens, director of Ford's Connected Services Organization.. "We are a car company that through market-driven, customer-focused innovation is learning to think and act like an electronics company, leveraging partnerships with fresh technology leaders."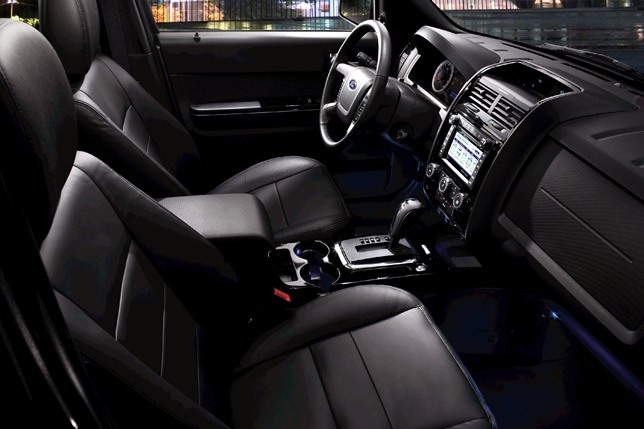 The 2010 Escape will feature:
Integrated Spotter Mirror (standard) –
a consumer-friendly, affordable blind spot technology that consists of an outside rearview mirror designed with a secondary convex spotter in the top outer corner, which is aimed exclusively at the driver's blind spot. When traffic enters the driver's blind spot on either side of the vehicle, it is visible in the secondary convex mirror, helping provide the driver broader peripheral view.
MyKey (standard) –
allows owners to program a key that can limit the vehicle's top speed and audio volume. MyKey also encourages safety-belt usage, provides earlier low-fuel warnings and can be programmed to sound chimes at 45, 55 and 65 miles per hour. This feature is standard on Escape models featuring a message center cluster, including XLT and above.
Rear View Camera System –
uses an exterior camera embedded in the rear of the vehicle that sends images to a video display in the rearview mirror or the navigation system screen to help enhance visibility directly behind the vehicle when it is in reverse. Ford is leveraging the affordability of high-quality video cameras to widely offer the technology with navigation systems.
Active Park Assist –
uses an ultrasonic-based sensing system and Electric Power Assisted Steering (EPAS) to position the vehicle for parallel parking, calculate the optimal steering angle and quickly steer the vehicle into a parking spot. The technology is a major leap forward in speed and ease of use compared with the camera-reliant systems offered by competitors. Ford's system requires less driver interaction and reduces the risk of selecting a parking spot that is too tight. Ford's Active Park Assist also works in downhill parking situations, unlike competing systems.
SYNC –
Ford is expanding its connectivity leadership by introducing exclusive new SYNC real-time information features. The new Escape is one of the first vehicles to introduce this innovation – SYNC with Traffic, Directions and Information – which leverages industry-leading voice-recognition software, integrated GPS technology, and a customer's Bluetooth-capable mobile phone. SYNC's new services provide simple hands-free access to personalized traffic reports, precise turn-by-turn driving directions and up-to-date information including business listings, news, sports, and weather.
A recent study shows that SYNC's hands-free system significantly reduces the level of distraction when drivers select a phone number or choose a song on their MP3 player compared with the same operations performed with hand-held cell phones and music players.
"We know people want to stay connected in their vehicles, so Ford is continuing to deliver that connectivity for them responsibly and safely," says Susan Cischke, Ford's group vice president of Sustainability, Environment and Safety Engineering. "Our SYNC research backs up what most of us instinctively know – that it is better while driving to place a call using a voice interface than dialing manually, because you can keep your hands on the wheel and eyes on the road."
The 2010 Ford Escape's standard safety technologies also include:
* AdvanceTrac® with RSC® (Roll Stability Control) – the world's only system with a gyroscopic sensor that actively measures and helps prevent both side-to-side "yaw" and roll movements
* Safety Canopy™ – a side air curtain technology offering protection for the first and second seating rows, and helps provide rollover and ejection protection with extended deployment in rollovers
* Personal Safety System® – a suite of seven safety technologies, including new dual-stage front air bags for the driver and front-seat passenger, side air bags and a front passenger sensor system
* Tire Pressure Monitoring System – alerts drivers when tire pressure is low. Properly inflated tires not only are important for safety – they also can help improve fuel economy.
Power:
2.5-liter, 4-cylinder, 177 combined horsepower
Mileage estimate:
31-34 mpg
Standard features include:
integrated blind-spot mirrors; antilock brakes; stability control; auto-dimming rearview mirror; a power driver seat; dual-zone automatic climate control; four-speaker CD stereo with an auxiliary audio jack and satellite radio, Sync system (includes iPod interface and Bluetooth); leather-wrapped steering wheel with audio controls
In the business of manufacturing cars for over a century, Ford Motor Company built part of its longstanding reputation on its rugged trucks, developing the F-series long ago and making a bundle of money from its sales.
But when the company peers into its crystal ball to predict the future, the road ahead might be paved with hybrids.
Ford has made a definite commitment to producing hybrid vehicles, which now are capable of running up to 35 mph on their electric motors, a 10 mph increase from previous generations that switched to gasoline mode at 25 mph.
Five years ago, Ford vowed to produce 250,000 hybrids a year by 2010. But a little over one year later the Detroit auto manufacturer rescinded on that claim due to excessive costs and some other contributing factors. Yet that doesn't mean Ford has backed off the whole hybrid movement.
For 2010, Ford has given both the Fusion and the Mercury Milan midsize sedans hybrid alternatives. The pair joins the Escape and Mercury Mariner, two compact sport utility vehicles that both have hybrid models.
Ford introduced the hybrid Escape in 2005, becoming the third company to unveil a hybrid model and the first to do so in an SUV. Five years later, the Toyota Highlander hybrid is its only real competition among SUVs.
Even though Ford has yet to move forward with a much-needed major redesign (an integrated blind-spot mirrors is the only standard addition for 2010), the Escape hybrid remains a quality vehicle. It gets between 31-34 mpg, which in the case of the Escape driven here for a week, means a fill-up doesn't arrive until about the 400-mile range per tank of gas.
Equipped with a 2.5-liter, 4-cylinder engine with a combined 177 horsepower, the hybrid Escape was not the most exhilarating ride. Passing power is very average and the engine noise gets rather loud when acceleration is needed in a hurry. An additional 300 pounds for the hybrid drivetrain apparently contributes to the lack of power.
An alternative is purchasing an Escape that isn't a hybrid. The savings will be around $6,000 off the $32,260 sticker price for the hybrid Escape, which is available in all-wheel drive.
All Escapes provide a simplified cabin that is easy to master and feature soft-touch material that adds to the overall comfort. The cabin offers solid room for all five passengers and the cargo area is fairly spacious for a compact SUV. Small storage bins and cubbies make the Escape very user-friendly as well.